Banoffee Cake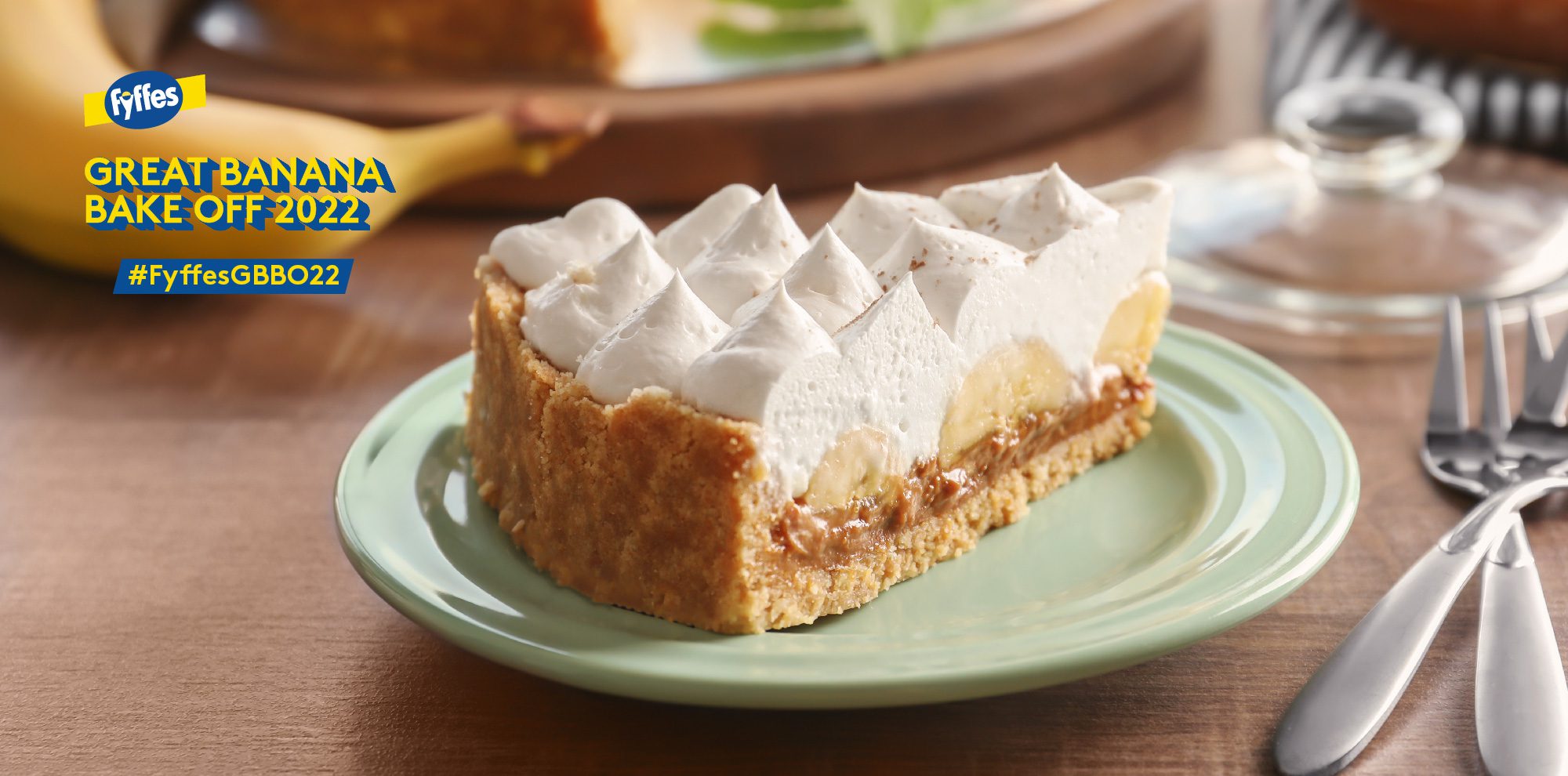 To find out how you can enter the Fyffes Great Banana Bake Off 2022 search for #FyffesGBBO22 on Facebook or Instagram.
Ingredients
3 Fyffes bananas
4 tbsp crème fraîche
2 tsp vanilla extract
175g (1 ½ sticks) of butter, plus extra for greasing
350g caster sugar (1 ¾ cup superfine sugar)
4 large eggs
350g (1 ¾ cup) self-raising flour (self-rising)
*** For the Caramel Sauce
150g caster sugar
100ml double cream (1/2 cup Heavy Cream)
75g (5 tablespoons) butter, diced
*** For the caramel frosting
125g (1 stick) cold butter
375g icing sugar (3 cups of powdered sugar)
4 tbsp milk
1 tsp vanilla extract
Method
To make the caramel sauce, combine the caster sugar with 50ml (3 ¼ tablespoons) of water in a heavy-based saucepan over a medium- high heat and bring to the boil. Then reduce the heat slightly and allow the mixture to simmer steadily for about 12 minutes, without stirring, until a golden caramel forms. Swirl the pan to encourage the sugar to caramelise. Remove the pan from the heat and pour in the cream and mix through. Stir in the butter to form a smooth caramel and then set aside.
Preheat the oven to 180°C/350°F/Gas Mark 4. Grease and line two 20cm (7 7/8 inch) diameter springform tins with baking parchment. To make the cake batter, mash two of the bananas in a bowl, then mix in the crème fraîche and vanilla extract.
In a separate bowl, cream the butter and caster sugar together until they are light and fluffy. Add the eggs, one at a time, beating well after each addition. Fold through the flour and banana mixture alternately, then divide the cake batter between the two prepared tins and bake in the oven for about 35 minutes until a skewer inserted in the centre of the cake comes out clean.
Transfer the tins to a wire rack to cool before removing the cakes from the tins and leaving to cool completely.
Prepare the frosting by beating the butter and icing sugar until smooth, then adding the milk and beating again until smooth. Mix through the vanilla extract and 80ml (about 5 tablespoons) of the caramel sauce.
Place one layer of the cake on a cake stand and spread one-third of the frosting on top. Place the second layer over the frosting and use the remaining frosting to completely cover the cake. Decorate the top with the remaining banana, cut into slices, and pour over the rest of the caramel sauce, allowing it to drip down the sides.