Caramelised Banana Pancakes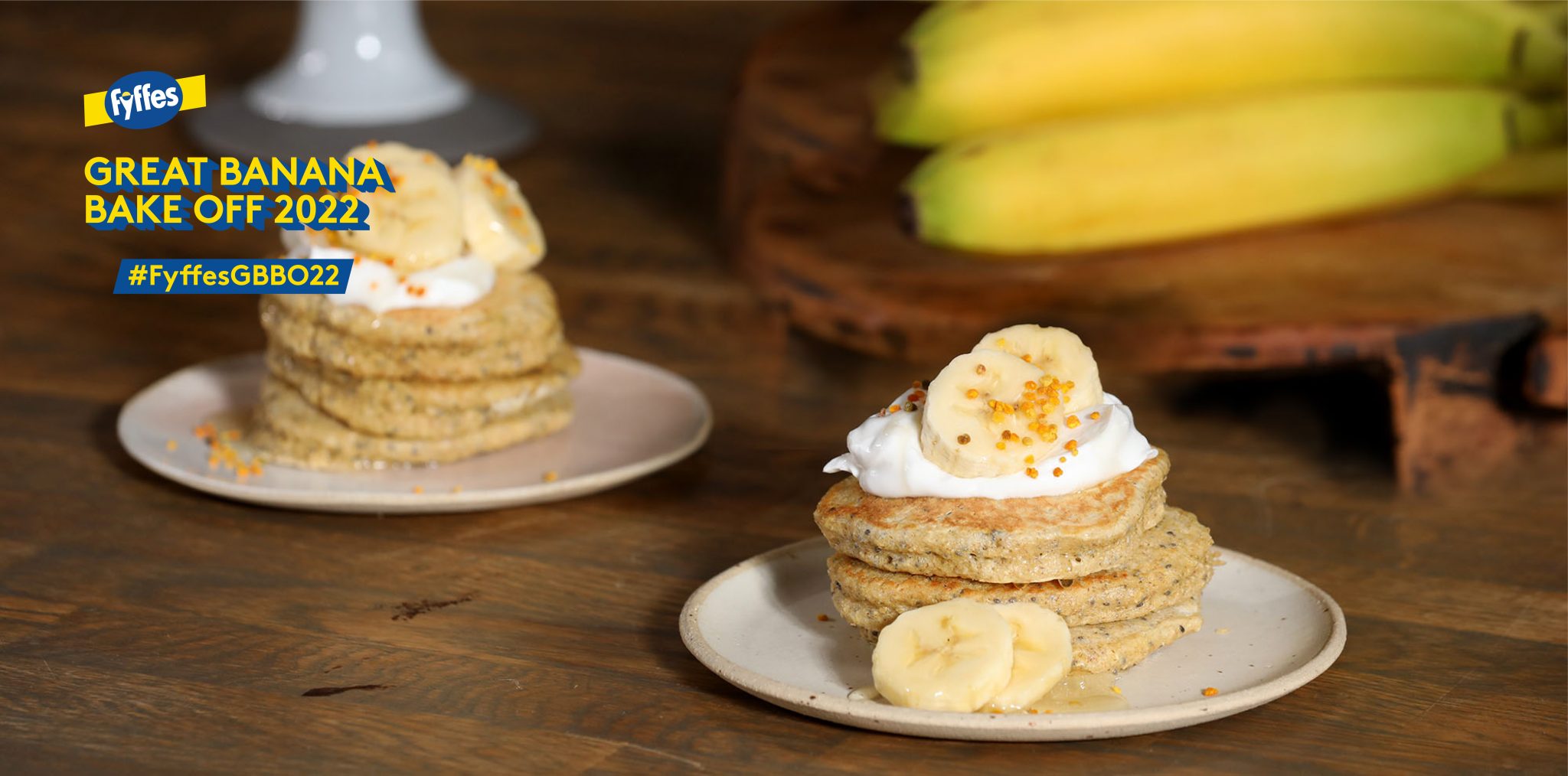 This take on classic banana pancakes from our Fyffes Great Banana Bake Off celebrity judge Donal Skehan is sure to inspire many #FyffesGBBO22 contestants.
Instagram: @donalskehan
To find out how you can enter the Fyffes Great Banana Bake Off 2022 search for #FyffesGBBO22 on Facebook or Instagram.
Ingredients
200g (1 5/8 cup) plain flour
2 tsp baking powder
Pinch of sea salt
½ tsp ground cinnamon
220ml (1 cup) milk
2 large eggs
A little butter, melted
50g (1/3 cup) toasted hazelnuts, roughly chopped
*** For the Caramelised Bananas:
75g butter, plus a knob (about 1 stick of butter)
100g (1/4 cup) golden syrup
8 mini bananas, halved lengthways
1 tsp caster sugar
Method
To make the pancake batter, put all the dry ingredients into a large mixing bowl. Measure the milk in a jug and add the eggs. Whisk lightly to combine, then add the liquid to the dry ingredients and mix until blended and you have a thick batter. Set aside in the refrigerator.
For the bananas, put the butter and golden syrup into a small saucepan and bring to the boil. Reduce the heat and allow the mixture to simmer and bubble for about 3 minutes until the sauce thickens. Remove the pan from the heat.
Coat the bananas in a little sugar and melt 2 tablespoons of butter in a large frying pan over a medium heat. Add the banana slices and cook them on all sides until golden. Pour over the butter and golden syrup sauce and stir gently to combine. Set aside.
To cook the pancakes, brush a warm frying pan with a little melted butter and pour in a small ladleful of the batter. The pancakes should each be about 10cm (about 4 inches) wide.
Allow them to cook until little bubbles start to appear and the edges become a little dry, then turn over to cook for about a minute until golden brown.
Serve immediately on warmed plates with the caramelised bananas and sauce on top, sprinkled with the toasted hazelnuts.