Banana Butter Tart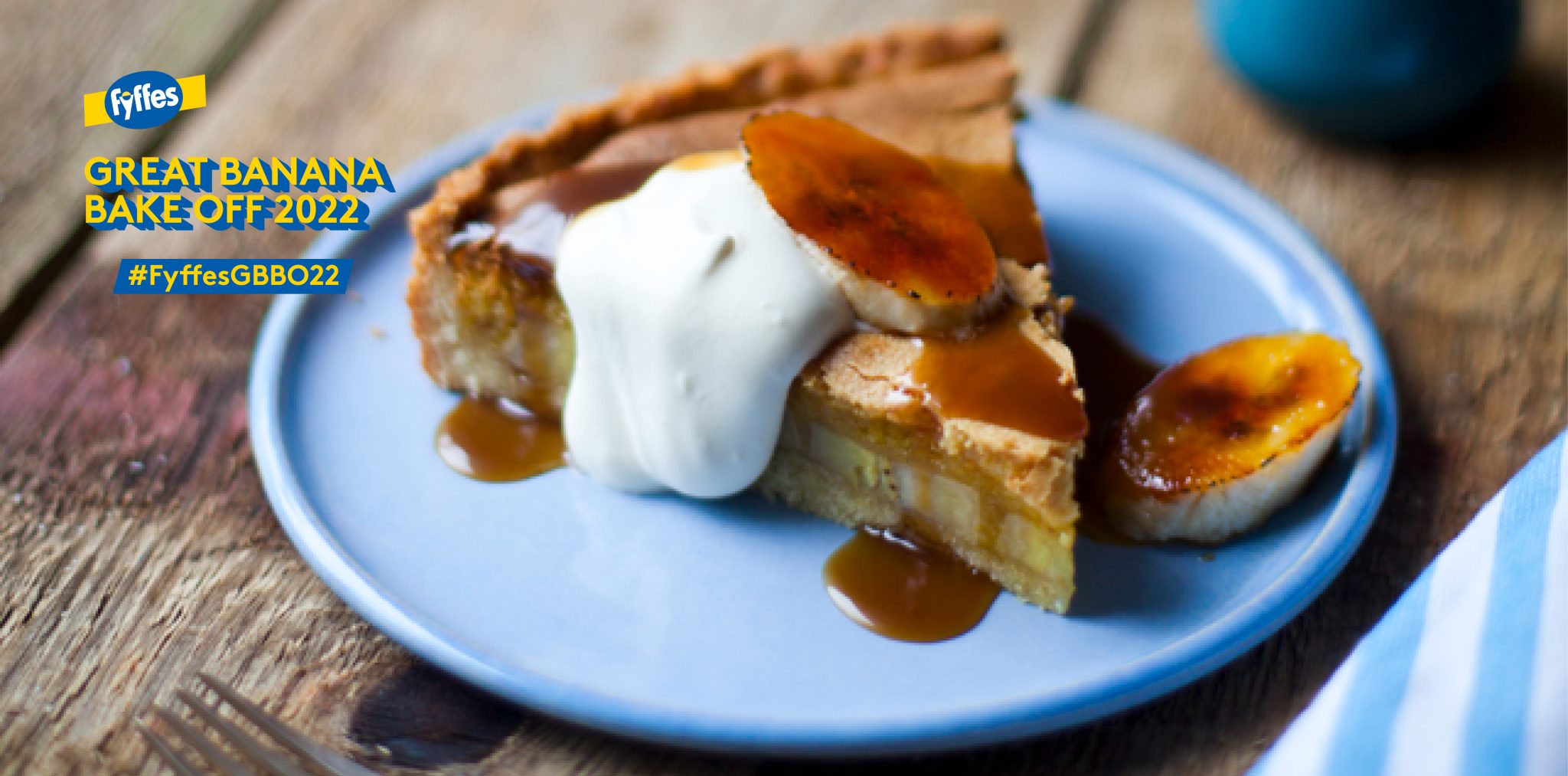 This very special Banana Butter Tart is a #FyffesGBBO22 fav recipe from our celebrity judge Donal Skehan. It's Donals take on a classic New Orleans favourite from Brennan's restaurant.
Ingredients
110g of cold butter, cut in cubes
1 tbsp of caster sugar
A pinch of salt
1 large free range egg, beaten
1 tsp of vanilla extract
175g of plain flour
A little cold water if required
6 large egg yolks
150g of sugar
150g of butter
1 tsp of vanilla extract
1/2 tsp of cinnamon
75g of plain flour
2 tbsp of white rum
2 Fyffes bananas, peeled, sliced
Whipped cream
dulché de leche
caramelised banana slices to serve
Method
For the pastry, press the butter into the flour using a pastry cutter or a fork until you have rough crumbs. Mix through the sugar and salt. Bring the dough together by mixing through the egg and vanilla extract. Add a little cold water if you find your dough is too dry. Wrap in cling film and allow to chill in the fridge for 30 minutes.
For the filling, whisk the egg yolks and sugar in a large mixing bowl until light and fluffy. Melt butter in a small pot over a medium heat. Cook the butter, stirring regularly until it turns a light brown. Make sure not to burn the butter as this will result in a bitter taste.
Whisk in the melted butter to the egg yolk mixture little by little. Whisk in the flour, cinnamon, vanilla extract and rum. Allow to cool.
Press the dough into a 9inch round pie tin. Chill for 30 minutes
Preheat the oven to 180˚C/350°F/Gas Mark 5. Line crust with foil and fill with baking beans. Bake until crust is golden for about 15 minutes. Transfer to a wire rack to cool.
Layer the base with the sliced bananas and pour over the mixture to cover. Bake in the oven for 35-40 minutes.
Transfer to wire rack to cool completely and then top with whipped cream, dulche de leche and freshly sliced bananas.