Chocolate Banana Galette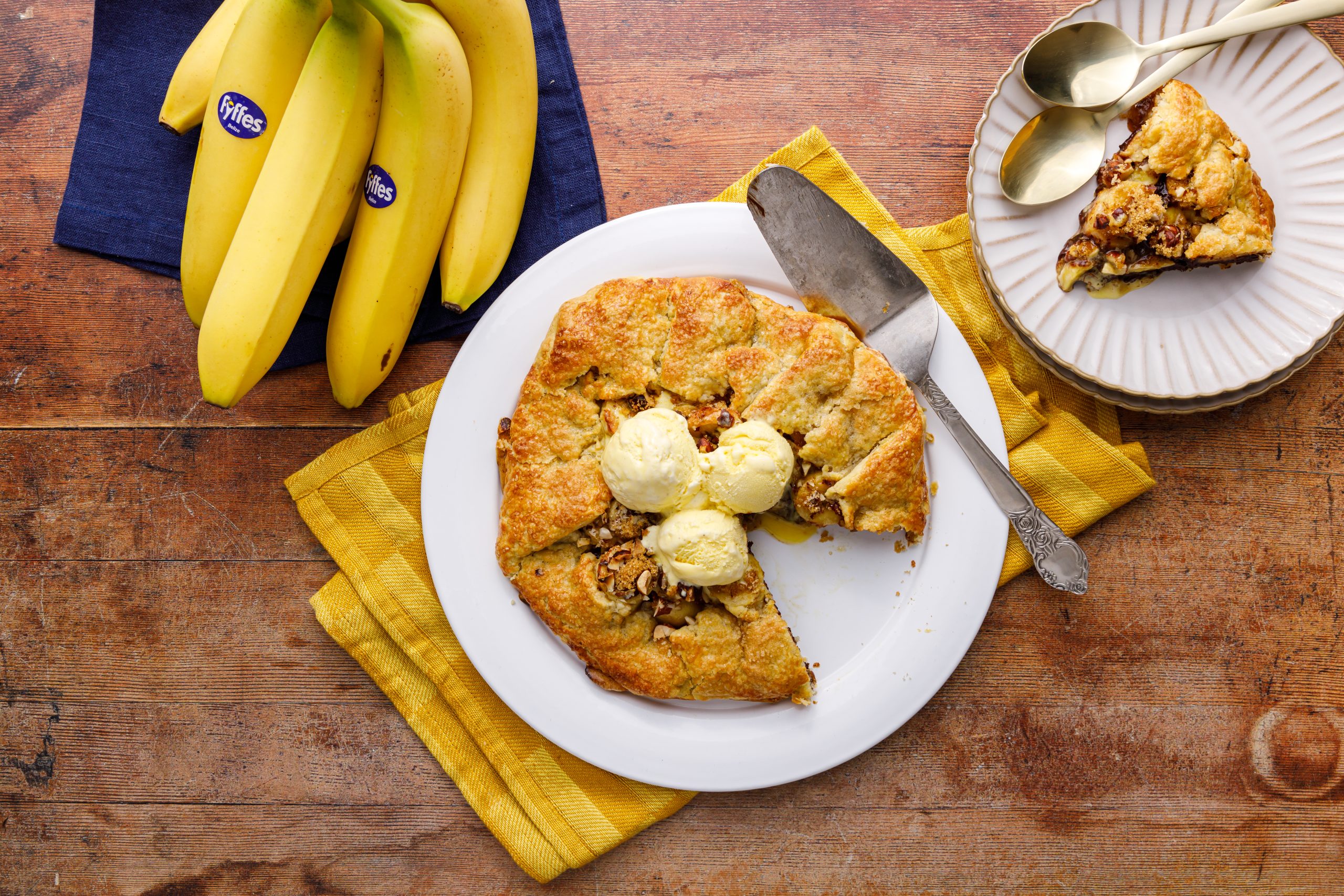 Ingredients
For the pastry (if not using shop-bought):
150g plain flour
2 tsp caster sugar
½ tsp salt
115g unsalted butter cubed & chilled
3 - 4 tbsp ice water
For the filling:
75g hazelnuts, roughly chopped & divided
150g 70% dark chocolate, roughly chopped
3 bananas, sliced
3 tbsp light soft brown sugar
1 egg, beaten
Demerara sugar, for sprinkling
Serving suggestions: Vanilla ice-cream
Method
If making your own pastry by hand, whisk together the dry ingredients in a medium sized bowl. Add the cubes of chilled butter and rub into the dry ingredients with your fingertips until it mostly resembles breadcrumbs with some larger pea-sized pieces.
Add 3 tbsp of the ice water and use a blunt knife to mix into the mixture until it starts to clump together to form a shaggy dough. If the dough holds together when you squeeze a bit in your hand, then it's perfect. If it crumbles apart, stir in the additional 1 tbsp of water.
Turn the dough out onto a clean surface lightly dusted with flour and bring together by simply pressing and squeezing it together (not kneading it) until it forms a thick round disc.
Wrap the dough in parchment paper and chill in the fridge for at least 1 hour. This can be made a few days ahead and kept in the fridge until needed.
To make the galette, pre-heat the oven to 200°C / 180°C fan assisted and line a large baking tray with parchment paper.
Roll out the pastry with a flour-dusted rolling pin into a large circle, roughly larger than a dinner plate and about 5mm thick, on a clean surface dusted with flour, making sure to lift and move the pastry from time to time to stop it from sticking.
Transfer the pastry to the parchment-lined baking tray.
Scatter half of the chopped hazelnuts and all of the chocolate over the pastry, leaving a 5cm border.
Arrange the sliced banana evenly over the top then scatter the remaining hazelnuts and soft light brown sugar.
Fold the dough border up and over the filling starting at 6 o'clock and working your way around the tart until you're back where you started, lightly pressing the pastry together where the folds meet to help them stick together.
Use a pastry brush and egg wash the pastry border, then sprinkle with demerara sugar.
Bake in pre-heated oven until the pastry is crisp and golden, about 25-30 minutes.
Serve warm with vanilla ice-cream.