Fyffes Hawaiian Chicken Kebabs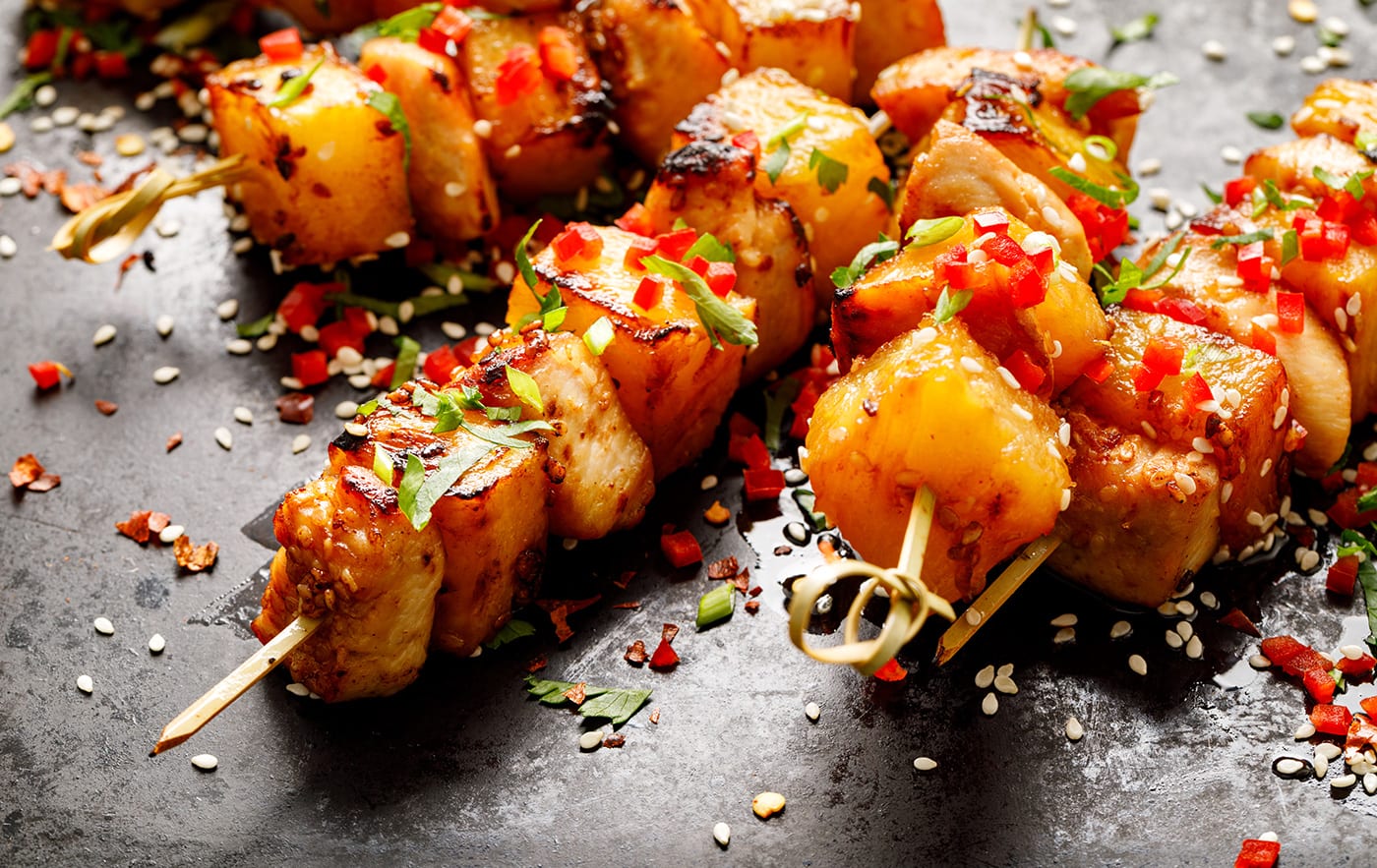 Ingredients
MARINADE:
43 g ketchup
43 g packed dark brown sugar
43 g low-sodium soy sauce
60 ml pineapple juice
4 Tbsp olive oil , divided, plus more for brushing grill
1 1/2 Tbsp rice vinegar
4 garlic cloves , minced (4 tsp)
1 Tbsp minced ginger
1/2 tsp sesame oil
Salt and freshly ground black pepper
KEBABS:
550 g boneless, skinless chicken breast , chopped into 1 1/4-inch cubes
384 g (heaping) fresh cubed pineapple (about 3/4 of a pineapple)
1 1/2 large green peppers , diced into 1 1/4-inch pieces
1 large red onion , diced into 1 1/4-inch pieces
Method
In a mixing bowl whisk together ketchup, brown sugar, soy sauce, pineapple juice, 2 Tbsp olive oil, rice vinegar, garlic, ginger and sesame oil. Stir in 3/4 tsp pepper and season with salt if desired.
Place chicken in a suitably sized resealable bag. Reserve 120 ml of the marinade in refrigerator then pour remaining marinade over chicken. Seal bag and refrigerate 1 hour (meanwhile soak 10 wooden skewer sticks in water for 1 hour).
Preheat BBQ over medium heat to 200°C. Meanwhile, drizzle remaining 2 Tbsp olive oil over red onion, bell pepper and pineapple and toss. Season red onion and bell pepper with salt and pepper, then thread red onion, bell pepper, pineapple and chicken onto skewers until all of the chicken has been used.
Brush grill grates with olive oil then place skewers on grill. Grill 5 minutes then brush along tops with 60 ml of remaining marinade. Rotate to opposite side and brush remaining 60 ml of marinade on opposite side.
Allow to cook until chicken registers 75°C in centre on an instant read thermometer. Serve warm.