Fyffes Teriyaki Chicken Burgers with Pineapple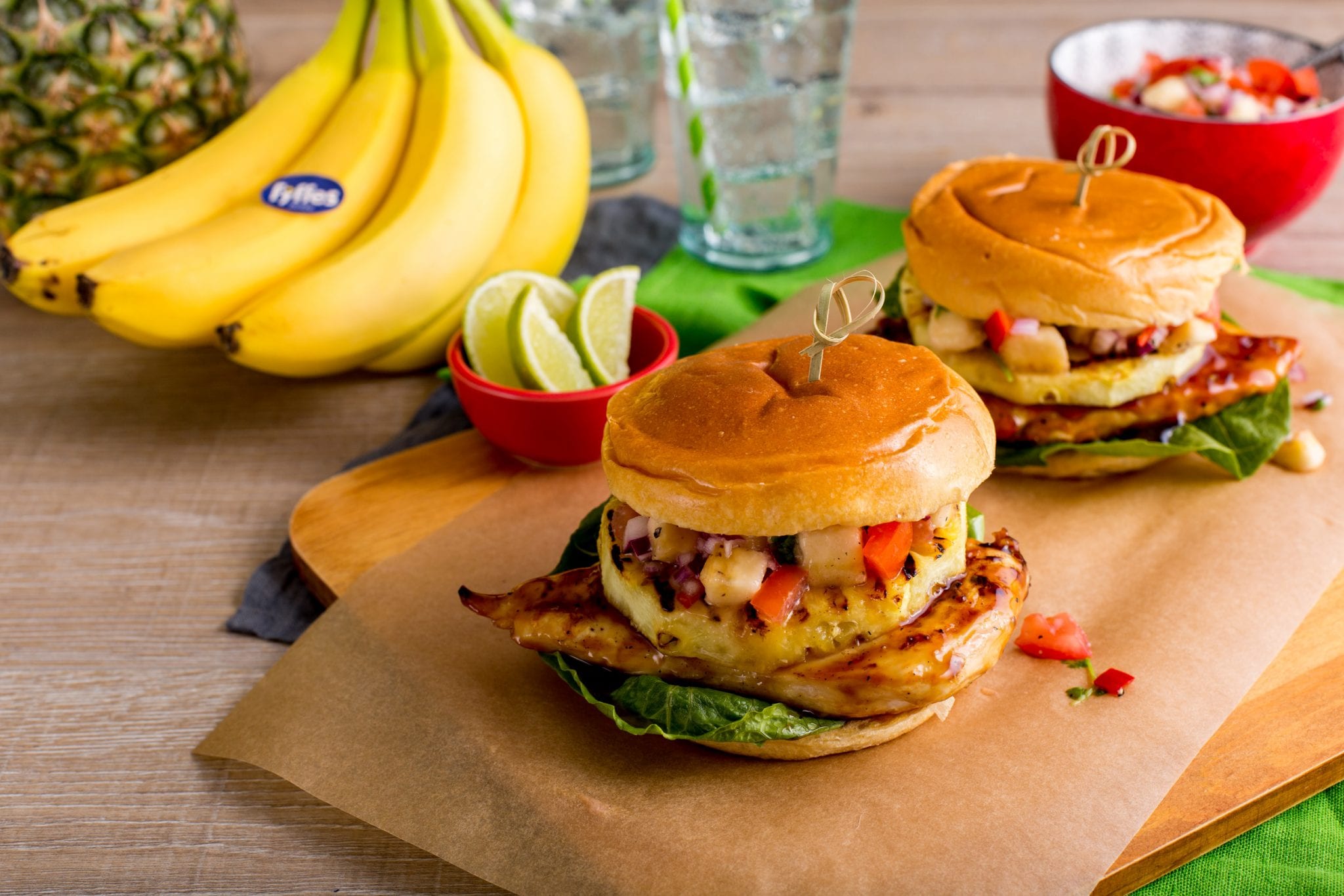 These burgers are also perfect for hotter months when you can cook on a barbecue.
Ingredients
*** For the salsa
3 medium bananas, peeled & diced
2 small tomatoes, finely diced
½ red onion, finely diced

1 red chilli, deseeded and diced
Juice from 1 lime
Small bunch coriander, roughly chopped
*** For the burger
Canola or sunflower oil, for cooking
4 slices pineapple
4 small chicken breasts
Salt & pepper
8 tbsp teriyaki barbecue sauce
*** To serve
4 burger buns
Teriyaki barbecue sauce
Lettuce
Banana relish (see above)
Method
For the salsa, combine all ingredients together in a small bowl, toss together then set aside until needed.
For the burgers, trim away skin from pineapple slices, and optionally, use a small round cutter to remove the core.
Heat a large skillet or pan on medium high heat. Brush pineapple slice with oil then arrange in the pan. Reduce heat to medium and cook for about 3 minutes on either side. Remove and set aside. (These can be cooked at the same time as the chicken if you have a large enough pan or are cooking over a barbecue.)
Place the chicken breasts between two sheets of parchment paper then use a rolling pin or something suitably heavy to flatten chicken breasts to about 2cm (about a ½ inch) high.
Brush chicken with a bit of oil then arrange in the pan, season the tops with salt and pepper and cook for 7-8 minutes on medium high heat. Reduce heat to medium and turn chicken over, cook until chicken is firm and there is no pink in the middle, about 5-6 minutes.
Baste each burger with 1 tablespoon teriyaki sauce then turn over. Baste with the remaining teriyaki sauce.
To assemble the burgers, spread a bit of teriyaki sauce on the bottom half of each bun, place lettuce on top then the cooked chicken burgers and a slice of grilled pineapple .Finally, top with a few spoonfuls of banana relish. Cap with the top of the bun then enjoy while still hot.