Fyffes Tuna Poke Bowl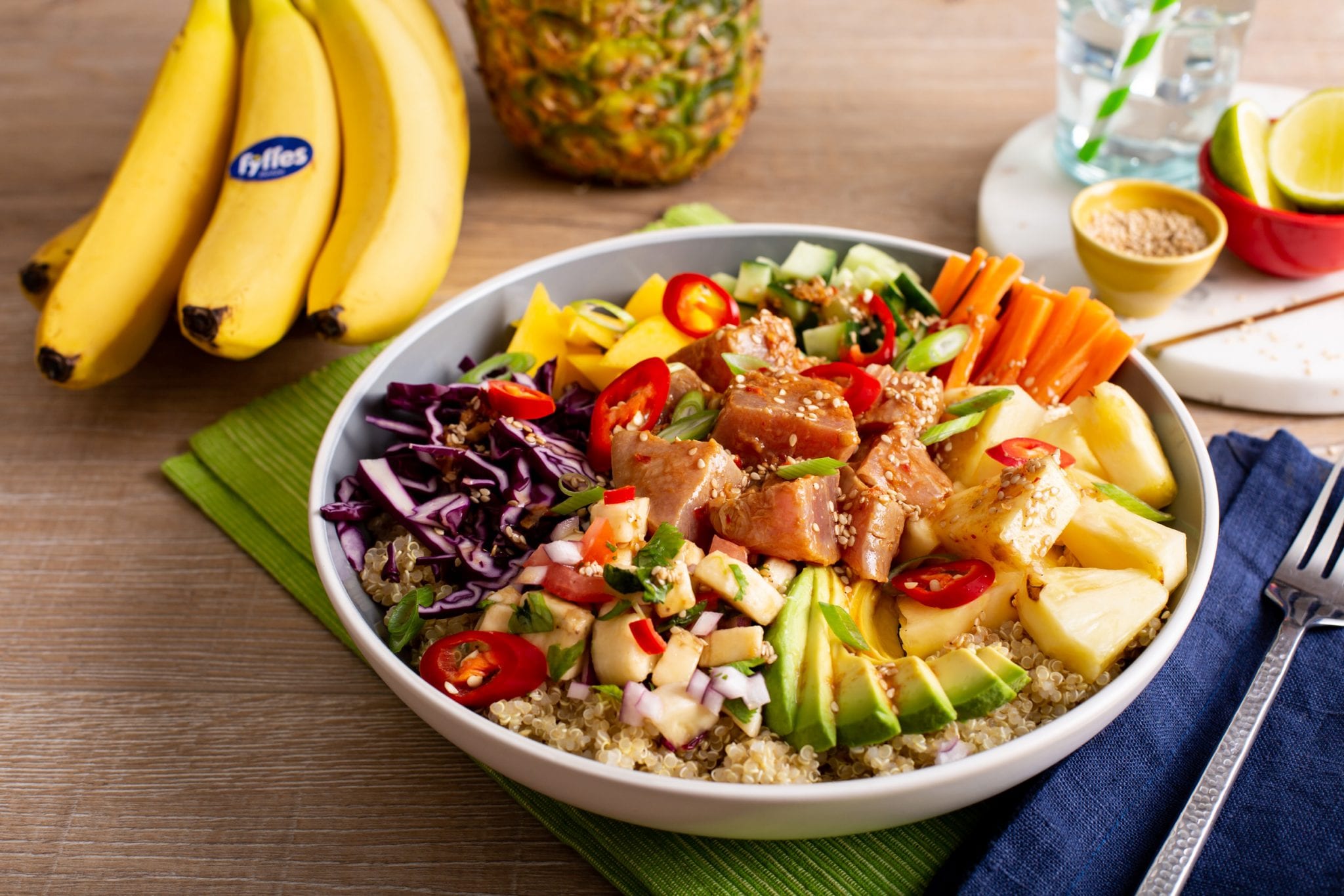 This recipe includes quinoa but poke bowls are traditionally served with rice, feel free to use either. Poke bowls can be served with a variety of fresh or pickled vegetables.
Ingredients
*** For the relish
1 large banana, peeled & diced
1 small tomato, finely diced
¼ red onion, finely diced
½ red chilli, deseeded and diced
Juice from ½ lime
Small bunch coriander, roughly chopped
*** For the marinade & tuna
4 tbsp sesame oil
2 tbsp soy sauce
½ tbsp rice vinegar
½ tsp chilli paste
1 tsp grated fresh ginger
Juice from 1 lime
1 tsp sesame seeds, toasted
250 g (8¾ oz) sashimi grade ahi tuna, cubed
-
*** For the poke bowl
200 g (7 oz) cooked quinoa
4 slices pineapple, cut into chunks
1 avocado, sliced
Handful shredded red cabbage
1 mango, cut into chunks
½ cucumber, diced
1 carrot, julienne
4 generous spoons Banana relish (see above)
Marinated tuna (see above)
1 spring onion, finely sliced (optional)
1 red chilli, finely sliced (optional)
Method
For the relish, combine all ingredients together in a small bowl, toss together then set aside until needed.
Toss together the marinade and tuna in a medium sized bowl making sure the tuna is well coated. Either refrigerate (covered for up to 2 hours) or assemble poke bowls immediately.
Spoon a bed of quinoa into 2 serving bowls then arrange poke ingredients in sections in the bowls. Dress with a few spoonful's leftover marinade and garnish with spring onion and chilli slices then enjoy immediately.